Pilot, 23, dead after mysteriously exiting small cargo plane at 3,500 feet. Other pilot reportedly tells officials he jumped from plane without parachute.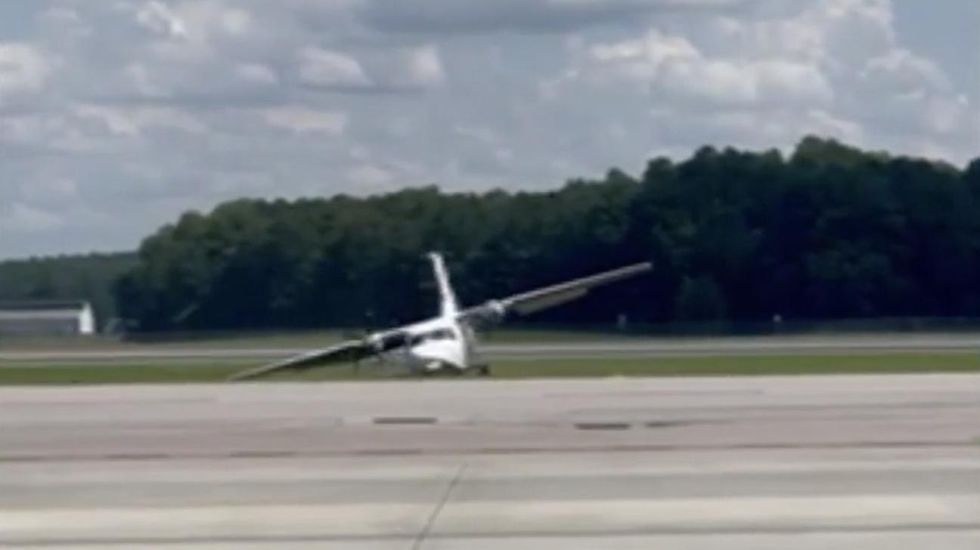 A 23-year-old pilot is dead after mysteriously exiting a small cargo plane above North Carolina at 3,500 feet last week. The plane's other pilot — the only other person aboard the aircraft Friday — reportedly told officials his co-pilot jumped from the plane without a parachute.
What are the details?
Flight-tracking software shows the plane — a CASA C-212 Aviocar registered to Spore LTD in Colorado — took off from Raeford West Airport at 1:10 p.m., WNCN-TV reported.
During the flight, a recording indicated one of the two pilots called Fayetteville Air Traffic Control for help rerouting to Raleigh-Durham International Airport, the station said.
A pilot said, "We've lost our right wheel. We'd like to proceed to Raleigh and make a landing," WNCN reported.
A pilot also said the plane had enough fuel to fly for another four hours before having to land, according to the station, which added that someone eventually responded, "Quick question: How do you intend to land at Raleigh-Durham?"
The reply from a pilot was, "Get as low as we can, and I guess we're going to put it on the belly," WNCN said, adding that it would be an emergency landing.
The station added that during a radio call with officials, the pilot said his co-pilot jumped from the plane without a parachute.
Rescue crews found the body of Charles Hew Crooks in a Fuquay-Varina neighborhood, WNCN reported, citing local police.
Fuquay-Varina Police Chief Brandon Medina said at a news conference that Crooks fell about 3,500 feet, USA Today reported, adding that investigators hadn't determined if he died before or upon impact.
The plane — lacking one wheel — landed at 2:49 p.m. at the Raleigh-Durham airport, spun out, skidded off the runway, and came to a stop upon grass, WNCN reported.
The pilot was treated at a local hospital and released Friday night, WRAL-TV reported, adding that the pilot didn't speak to the media about what happened to Crooks.
Officials added to the station that the National Transportation Safety Board and the Federal Aviation Administration will lead an investigation.
Crook's father says his son was an experienced pilot
In a separate story, WNCN-TV reported that Crooks' father said his son was "very serious" and an experienced, professional commercial pilot.
Crooks' father also shared with the station photos of his son, and one of them showed Crooks flying the exact airplane model involved in Friday's incident, the station said.
Crooks had an FAA rating to fly the CASA C-212 Aviocar, WNCN said, adding that he was a pilot for Rampart Aviation and also worked for a year as a flight instructor for a company based at the Raleigh-Durham airport.
Crooks' father added to the station that the last time his son visited family was over the Fourth of July weekend at their home in Fairfield, Connecticut.
Anything else?
First responders found Crooks' body in the Sonoma Springs neighborhood in Fuquay-Varina, WNCN said.
A resident flagged them down after they "heard something in their backyard," Darshan Patel, Wake County Emergency Management chief of operations, told WRAL-TV. The station added that Crooks' body was found around 7 p.m.
Neighborhood resident Barbara Krolak told WNCN it was "traumatic," as Crooks' body "was found deep in some foliage in the backyard, so the police had to go in deep to find him."