Ohio couple celebrates 100th birthdays, 79 years of marriage: 'Been a good life'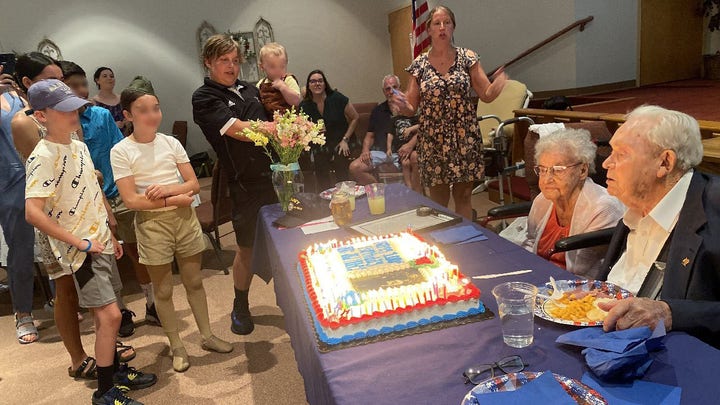 By Cortney Moore
An Ohio couple celebrated 79 years of marriage last month, and now they're celebrating a new milestone — their 100th birthdays.
June Malicote was born on July 13, 1922, while her husband, Hubert Malicote, was born 10 days later, on July 23, 1922.
Family, friends, neighbors and church members joined the couple on Friday, July 15, at the Eaton Road Church of God in Hamilton, Ohio, where a joint birthday party was held from 4 p.m. to 7 p.m.
Roughly 130 guests stopped by to celebrate with husband and wife.
"We just kind of live by the day and all of a sudden we're 100 years old," Hubert Malicote told Fox News Digital in a phone interview.
The longtime couple first met at the Eaton Road Church of God in 1941, which was under a different name at the time.
It was in September of that year that they attended a church revival with their respective friend groups.
Hubert had been sitting in the pew behind June — and at one point she looked back at him and smiled. He was smitten.
"After the service, down the street … was an ice cream parlor, so all of us young people went to the parlor, got ice cream and talked and had a nice little afternoon together," Hubert recalled. "There were no automobiles or anything. So, she went her way, and I went mine. I kind of thought about how I would make contact. And I decided that church was the best place."
"So come Sunday, I went to church, and she was there," he continued. "We sat together and talked and had a good relationship."
They repeated the routine for a few weeks — and their first official date was at a local county fair. Hubert said he remembers sharing his first kiss with June after the fair at June's home.
"I didn't really know what to do," he said. "I was just barely 19 and kind of a country boy. And I thought, 'She's looking pretty dressed in red.'"
He added, "I reached over and hugged her a little bit and gave her a kiss."