WATCH: New Castle County Police officer drags young woman down hallway at police headquarters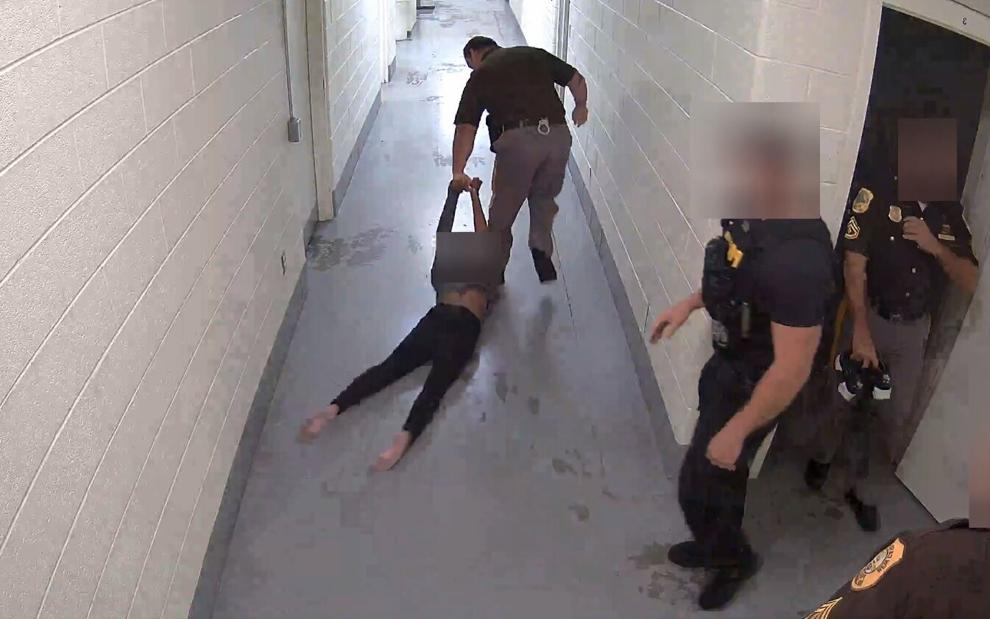 Sean Greene
A former New Castle County Police Officer pled guilty to offensive touching after surveillance footage showed him dragging a suspect up and down a hallway inside Police Headquarters last August.
Footage released by New Castle County Thursday showed Michael Carnevale walking into cell block area with a handcuffed, unidentified 16-year-old female, and when she starts to walk the other direction away from the holding cell, he forcibly pulls her in the other direction, and after their feet collided, she went to the ground.
Carnevale proceeded to drag the young woman down the corridor, as she worked to successfully get back to her feet.
When they reach the holding cell, the young woman goes back to the ground, trying to use her feet to prevent Carnevale from placing her in the cell, with a second officer being needed to dislodge her feet from the door entrance and place her in the room, locking it behind them as they walked away.
A second video then shows Carnevale taking the young woman out of that cell, as she again goes to the ground as they make a right turn to go down the previous hallway.
He drags her all the way down to the other side, where she finally gets back to her feet and the video stops.
Police did not detail why the 16-year-old was handcuffed.
Carnevale was placed on administrative leave immediately, as investigations began by the Division of Police Criminal Investigations, the Department of Justice, and the Division of Police Professional Standards Units. He retired in October.
New Castle County said they are just now releasing the footage because of the plea agreement in Superior Court.
New Castle County Police Chief Col. Joseph Bloch issued a statement:
"The actions of Mr. Carnevale seen in the video are not within the policies and procedures of the New Castle County Police and do not reflect the values and standards of the Division. Although I am disgusted that this incident took place, I am pleased that through the hard work of the Department of Justice – Division of Civil Rights and Public Trust and our internal investigators, Mr. Carnevale was held accountable for his actions and will never serve in law enforcement again.  The New Castle County Division of Police prides itself on the relationships we have built within the communities we serve. I am hopeful that our immediate response to this incident demonstrates our commitment to holding ourselves accountable and builds upon the public trust that we have established over many years of dedicated service."
As part of Carnevale's plea agreement, he agreed to never seek a law enforcement position in the future.
https://www.wdel.com/news/video-new-castle-county-police-officer-drags-young-woman-down-hallway-at-police-headquarters/article_a3b0fa14-03c3-11ed-9e53-cbb6197d09d9.html
About Post Author