WATCH Video: American judge kidnapped in Brazil by prostitutes and fake cops, held for ransom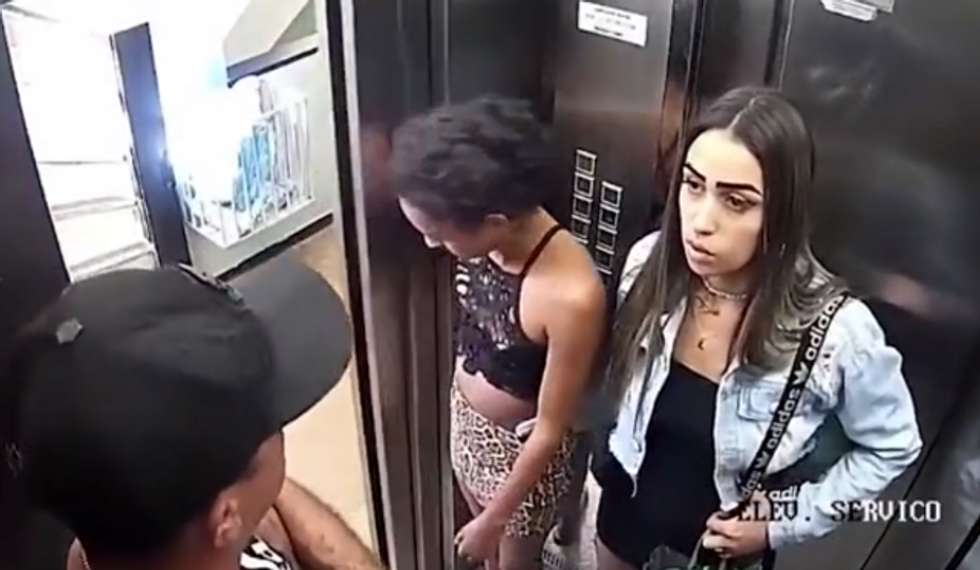 An American judge vacationing in Brazil was kidnapped and held for ransom after being manipulated by prostitutes and men posing as police officers.
An unnamed U.S. judge was reportedly conned by two prostitutes in Rio de Janeiro. The judge told authorities that he had been traveling to Brazil for 20 years and he had known the two women – identified as Shayna Monteiro and Beatriz Freitas, according to the Daily Mail. He reportedly contacted the women and invited them to an apartment he rented out in the Copacabana neighborhood on July 3.
Surveillance video from the elevator shows the women with the American judge, Monteiro and Freitas left the apartment around 11:30 a.m. but returned an hour later.
The women were accompanied by two men dressed up as Rio de Janeiro police officers. The fake cops were identified as Erivaldo da Silva and Alef dos Santos – who told the judge that he was being placed under arrest for having sexual relations with the two prostitutes who they claimed were underage.
The fake police officers held the judge hostage and demanded ransom for his release. They negotiated a ransom of more than $36,000 from a friend of the judge.
"Erivaldo even pretended to be a policeman and tried to negotiate the price with a friend of the tourist, who was informed by phone that the friend was being arrested for being with call girls in her apartment," Brazilian newspaper O Dia reported.
The judge's friend contacted the military police.
When the conmen went to pick up the ransom money from the judge's friend, the real police reportedly arrested the fake cops. The judge was rescued without incident.
Da Silva is said to be the leader of a gang and was on parole for illegal possession of a firearm and criminal association. He was charged with extortion and kidnapping.
Charges for dos Santos, Freitas, and Monteiro are still pending.
"The welfare and safety of U.S. citizens abroad is one of the highest priorities of the Department of State,' a U.S. State Department spokesperson told the Daily Mail. "We are aware of these reports. Due to privacy considerations, we have no further comment."