Woman seeks to rid eBay of racist items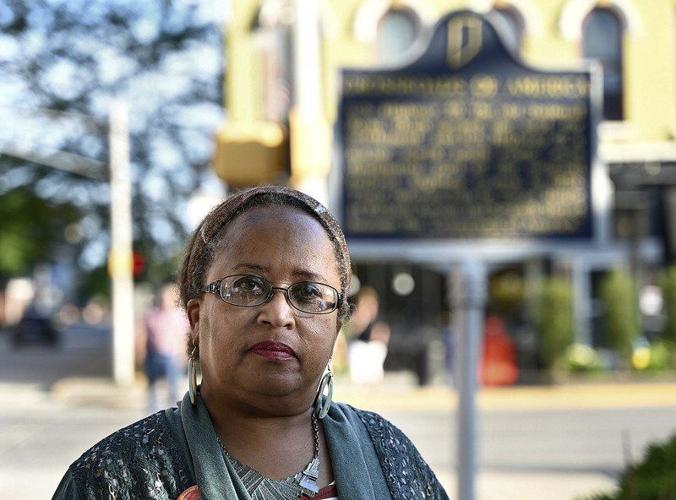 Despite an "offensive materials" policy that bars sale of racist items, eBay routinely has items for sale that violate that policy, says Terre Haute resident Crystal Reynolds.
She's taken it upon herself to notify the online shopping site of the offensive items she finds, including those with stereotypical imagery such as Black individuals eating watermelon; Blacks with exaggerated physical features; Sambo images; Mammy dolls; pickaninny caricatures and more.
She has found items under such categories as "Black Americana," "racist collectibles," "racist postcards," and "racist vintage." Reynolds has reported items discriminatory toward other minority groups as well.
The items "stereotype African Americans in ways that are hurtful and harmful. They categorize us as lazy, as shiftless, as watermelon eating, as shysters, as crooks," she said.
"It's imagery that stereotypes us as if we were unintelligent, second-class citizens."
Reynolds, who has a master's in history and a doctorate in education and frequently writes about the history of minority groups and individuals in Vigo County, will often contact sellers to let them know an item is offensive.
Some of the sellers are receptive and take items down, while others "are rude" and some may not understand why an item might be considered objectionable.
A representatives at an eBay call center in the Philippines encouraged her to continue reporting, but she says eBay should have someone on staff to monitor and respond to these violations.
When Reynolds notifies eBay of offensive sales items, it typically takes 24 to 48 hours for those items to be removed, she said. If it's egregious, she says, the process is expedited.
What she has been told is that eBay notifies the seller first to let them take it down; if the seller doesn't respond in a timely fashion or doesn't take it down, then eBay will. The company does have a review team to see if the item for sale is "offensive," she said.
Ebay has an "offensive materials" policy that states:
"Listings that promote, perpetuate or glorify hatred, violence, or discrimination, including on the grounds of race, ethnicity, color, religion, disability, national origin, sex, gender and gender identity or sexual orientation, aren't allowed." This includes but is not limited to the following:
Slurs or epithets of any kind; slavery items, including reproductions, such as tags, shackles, documents, bills of sale, etc.; items with racist, anti-Semitic, or otherwise demeaning portrayals, for example through caricatures or other exaggerated features, including figurines, cartoons, housewares, historical advertisements, and golliwogs.
Also prohibited are Black Americana items that are discriminatory; Confederate battle flag and related items with its image; historical Holocaust-related and Nazi-related items, including reproductions; any item that is anti-Semitic or any item from after 1933 that bears a swastika; media identified as Nazi propaganda; listings that imply or promote support of, membership in, or funding of a terrorist organization.
Activity that doesn't follow eBay policy could result in a range of actions including, for example: administratively ending or canceling listings, hiding or demoting all listings from search results, lowering seller rating, buying or selling restrictions, and account suspension, according to the eBay website.
eBay says its policy is "to ensure that our platform remains a safe, trusted and inclusive environment for our global community of buyers and sellers."
Reynolds hopes to talk to someone in upper level management, but so far has not been successful. She is drafting a letter that she plans to send to the eBay CEO.
She believes the company should take several steps that include a greater effort to ensure sellers and buyers are aware of the policy. "Some don't know they are in violation, but some know and don't care," she said.
Also, the company needs staff who monitor for the prohibited items so they can be removed. In addition, those who staff overseas call centers should be educated on why the items are offensive, she said.
Adeyemi Doss, an Indiana State University professor of sociology, collects racial memorabilia, particularly from the Jim Crow South era, to use in his class on black masculinity. Doss has not purchased those items on eBay.
One is a Black child on an alligator, a toy from the Jim Crow era in the South. In his class, "We talk about how the Black body is scripted, in particular after slavery and during Jim Crow." For children who had these kinds of toys, it was part of their socializing and they viewed Black people as objects.
The items were not just toys. "They were used to justify the abuse going on during that time and somewhat now," Doss said.
He doesn't necessarily share Reynolds' view that the items should be removed from eBay. Even if they were, people could purchase them elsewhere.
While items might be offensive, "It's part of the history, part of the makeup here in America. It's part of our identity, even though it can be as offensive as all get out," Doss said.
If he hides that history from his students, "They won't understand where this behavior comes from when we are talking about abuse of Black boys in certain parts of America," Doss said.
He incorporates the items in his class "so students understand the things they see today are nothing new."
The Tribune-Star sought comment from eBay, but the company has not responded.
https://www.tribstar.com/news/terre-haute-woman-seeks-to-rid-ebay-of-racist-items/article_1d40b15c-f8ec-55bd-9158-f46f144523c9.html