Depression-Era Food You Won't Believe is Making a Comeback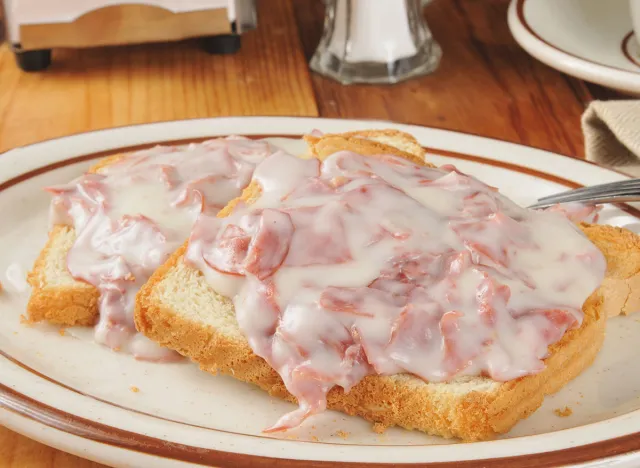 During any period of uncertainty, people are flock to classic recipes, many of which originated during the Great Depression. Whether it's to save money, to cook with limited ingredients, or even just to enjoy the nostalgia factor of dishes cooked by grandparents, some decidedly old-fashioned Depression-era foods have made a comeback over the past few months.
CREAMED CHIPPED BEEF
8 ounces

 Buddig original beef (see notes)

1/4 cup

 butter

1/4 cup

 all purpose flour

1/2 teaspoon

 fresh ground black pepper

2

 pinches ground cayenne pepper

2 cups

 milk (see notes)
salt and pepper to taste
INSTRUCTIONS
Slice the beef in bite size pieces.
Melt butter in a skillet over medium low heat. Whisk in the flour. Cook for 2 to 3 minutes; whisking constantly.  Sprinkle in black pepper and cayenne pepper.  Slowly whisk in the milk until smooth and creamy.
Add the chopped beef and simmer for 3-5 minutes. Salt and pepper to taste.  Serve over toasted bread, eggs, hash browns, or biscuits.
NOTES
You can use any dried beef however Buddig beef works perfect for this recipe.  It is available in most grocery stores and is not quite as salty or dry as some of the other brands of dried beef. You will find it with the other prepackaged luncheon meats
Cook the butter flour mixture (roux) for 2-3 minutes as it helps to cook off the raw flour taste.
Slowly add your milk and whisk continuously until you have a nice smooth sauce.
If the sauce gets too thick add less than a quarter of a cup of milk at a time until you reach your desired consistency.
Season to taste with salt, seasoned salt, fresh ground black pepper, cayenne pepper and even a splash of Worcestershire Sauce.
Creamed Chipped Beef is best served promptly nonetheless it reheats fairly well.