Chef shares grandfather's fried chicken recipe that became their Juneteenth tradition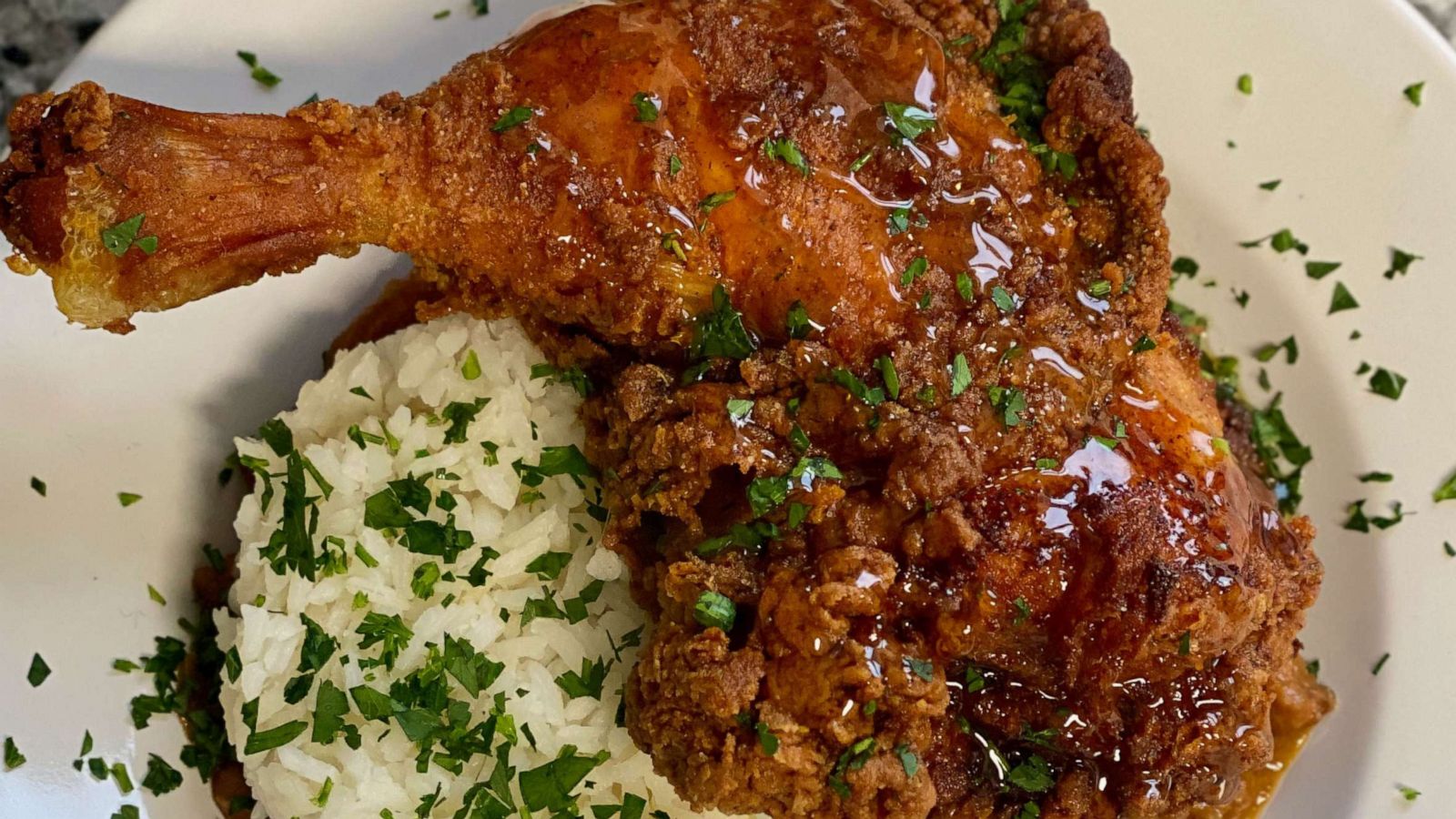 As Juneteenth is celebrated across the country, one chef is plating up a hearty serving of one of his family's traditions to mark the occasion.
African American executive chef and owner of Filé Gumbo Bar, Eric McCree, honors his grandfather's legacy at his New York City Cajun-Creole eatery and shared a dish that the pair would eat every Juneteenth since he was first able to help cook himself.
"I grew up eating most of this food with my grandfather," he said of his larger-than-life inspiration, Aubrey "Tiny" Gaines. "It was something that I just knew and already loved — that's the memory that I wanted to bring throughout the concept — this food is all about that, it's about being in the kitchen and seeing and hearing the stories" about how different families make the rich and historic dishes of Louisiana.
Growing up in Boise, Idaho, McCree said he developed an early love of cooking with his grandfather, who would prep and grill mass quantities of dry-rubbed ribs and barbecue chicken for their church picnic on Juneteenth.
His grandfather's larger than life personality has been an integral part of his restaurant's concept. "I tried to make everything large, southern style portions — and that was a play off of my grandfather, Tiny. It looks big, but the titles on the menu make it seem small or dainty."
Buttermilk Fried Chicken
Ingredients
Buttermilk Bath 32 ounces – Buttermilk
15 grams – Cajun Seasoning
10 grams – Crushed Red Pepper flakes
20 grams – Kosher Mortons Salt
25 grams – Hot Sauce
1 Whole Chicken cut into pieces
Dredge
150 grams – All Purpose Flour
17 grams – Cajun Seasoning
23 grams – Kosher Mortons Salt
Method
Combine all buttermilk bath ingredients into a large bowl.
Add chicken pieces into bath, fully submerged for 24 hours.
Preheat oil in a dutch oven to 300 degrees. Remove chicken from bath and toss in a brown paper bag filled with floor dredge and shake. Shake off excess flour and add chicken into oil.
Fry until chicken floats to the surface of the oil and reaches an internal temperature 165 degrees with a meat thermometer.
Take out chicken and season immediately with Cajun seasoning
https://www.goodmorningamerica.com/food/story/chef-shares-grandfathers-fried-chicken-recipe-juneteenth-tradition-85381693