'Thank you for the joy and beauty you bring to the world' Nancy Pelosi tells drag queens they're what 'America is all about'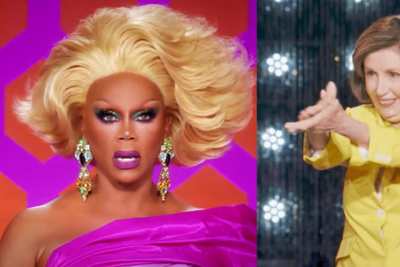 House Speaker Nancy Pelosi (D-Calif.) made a special appearance on "RuPaul's Drag Race All Stars 7," where she heaped high praise on contestants for "the joy and beauty [drag queens] bring to the world." In return, the drag queen contestants gushed with adoration for Pelosi, gleefully praising her "tireless" fight for "freedom," as well as her infamous, condescending clap at former President Donald Trump after his State of the Union address in 2019.
"My honor to be here, to say to all of you how proud we all are of you," Pelosi told the all-winners drag race contestants. "Thank you for the joy and beauty you bring to the world. Your freedom of expression of yourselves in drag is what America is all about. I say that all the time to my friends in drag."
Asked to share words of wisdom, Pelosi encouraged people to vote in the upcoming midterm elections.
"Thank you so much for the work you've done and the work you continue to do tirelessly for our freedom. Your tenacity is something that we all look up to," said host RuPaul Andre Charles.
Raja Gemini, season 3 champion, praised Pelosi's now-infamous sarcastic clap at President Trump in 2019.
Nancy Pelosi sarcastically claps at President Trump after he calls for Americans to "reject the politics of revenge, resistance, and retribution, and embrace the boundless potential of cooperation, compromise, and the common good." #SOTU pic.twitter.com/gGDTXXPNHe

— Vox (@voxdotcom) February 6, 2019
"We throw the word masterclass around here all the time, but that sarcastic, shady clap you do was f***ing epic," Raja gushed.
"It was completely unintentional," Pelosi responded.
"We have prayers in our hearts to keep you strong," RuPaul added.
Pelosi made headlines on Friday when she snapped at reporters, saying that "nobody is in danger over the weekend" when asked about a stalled plan to increase security for Supreme Court justices and their families last week after an armed man was arrested and charged with the attempted murder of Supreme Court Justice Brett Kavanaugh.
On the Glenn Beck radio program, guest Bill O'Reilly, reacting to how Pelosi and other Democrats in Congress seem so uninterested in protecting our Supreme Court justices, just had to get something off his chest: "I just think she's an evil woman who's consumed with power and has no respect for others with whom she disagrees."
Watch the video below to catch more of the conversation:
https://www.theblaze.com/shows/the-glenn-beck-program/nancy-pelosi-rupaul?rebelltitem=1#rebelltitem1