Video of "anti-groomer" protest in front of gay bar sparks outrage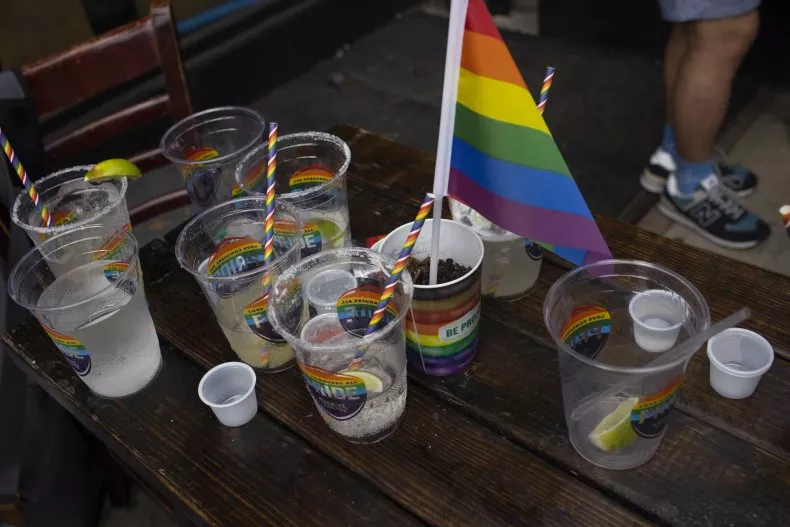 A video of protesters surrounding a Texas gay bar and calling its patrons "groomers" has gone viral, outraging national audiences.
Dallas bar Mr. Misster hosted an event called the "Drag the Kids to Pride Drag Show" on Saturday afternoon, which it described as a "family-friendly Pride experience." A description on Eventbrite said five spots were available for children to dance with drag performers on stage.
The event sparked a vocal demonstration by protesters shouting that members of the LGBTQ community are "grooming" children, as in a Video shared by Twitter user @EFJBGC with 1.2 million views.
An ugly protest today. A mob of self described "Christian Fascists" tried to force their way into a gay establishment in the gayborhood of Dallas holding a family event while chanting "Groomers" pic.twitter.com/2F9NE4rs0P

— Elm Fork John Brown Gun Club (@EFJBGC) June 4, 2022
"Groomers, promoters," protesters chanted repeatedly in the clip.
"You're disgusting," shouted a man with a loudspeaker. "Repent, repent your sins!"
"Grooming" is defined by the Rape, Abuse, and Incest National Network (RAINN) as manipulative behaviors that a sexual abuser "employs to gain access to a potential victim, coerce them into consenting to the abuse, and reduce the risk of being caught." to become, to decrease ."
The rhetoric linking the LGBTQ community to pedophilia isn't new, but it gained more mainstream support when Florida Gov. Ron Desantis' press secretary Christina Pushaw said the state's controversial law was nicknamed " Don't say gay" would be "more accurate than anti-care bill."
"If you oppose the Anti-Grooming Bill, chances are you're a groomer, or at least don't oppose the grooming of 4-8 year old children," Pushaw said said on twitter.
Florida statute, officially HB 1557, which was signed into law in March, prohibits "classroom discussions about sexual orientation or gender identity at certain grade levels or in certain ways." Activists have argued it will harm LGBTQ students.
Following the publicity surrounding the Drag the Kids to Pride event, Texas State Representative Bryan Slaton announced Monday that he would introduce a bill to ban minors from attending drag shows.
"Drag shows are no place for a kid," he tweeted.
Viewers across the country expressed their anger at the protesters' virulent response to an LGBTQ event.
"This is not a protest, this is a hate mob," commented one user.
"The way things are going, I'm rightly concerned that some of these people will try to start a pogrom against LGBTQ people," agreed another. "I am firmly convinced that we will experience that."
A self-confessed Dallas resident wrote: "I remember going to a gay youth center in Dallas and we would have active gun threats every few months [because] Someone would just show up with a gun and try to get in."
In a statement to WFAA-TV, Mr Misster said it was a "place where everyone can feel welcome, accepted, safe and included".
"We had a group of protesters outside shouting homophobic threats, transphobic remarks and vile allegations against these children and parents," the statement continued. "It's so sad to see that in 2022 there are still people who want to protest others who are celebrating who they are, but our staff and wonderful officers have helped keep us safe and kept the protesters at bay." keep."
news week turned to Mr Misster for comment.
https://worldtimetodays.com/video-of-anti-groomer-protest-in-front-of-gay-bar-sparks-outrage/