Welsh school closes down after black schoolboy loses finger in racist attack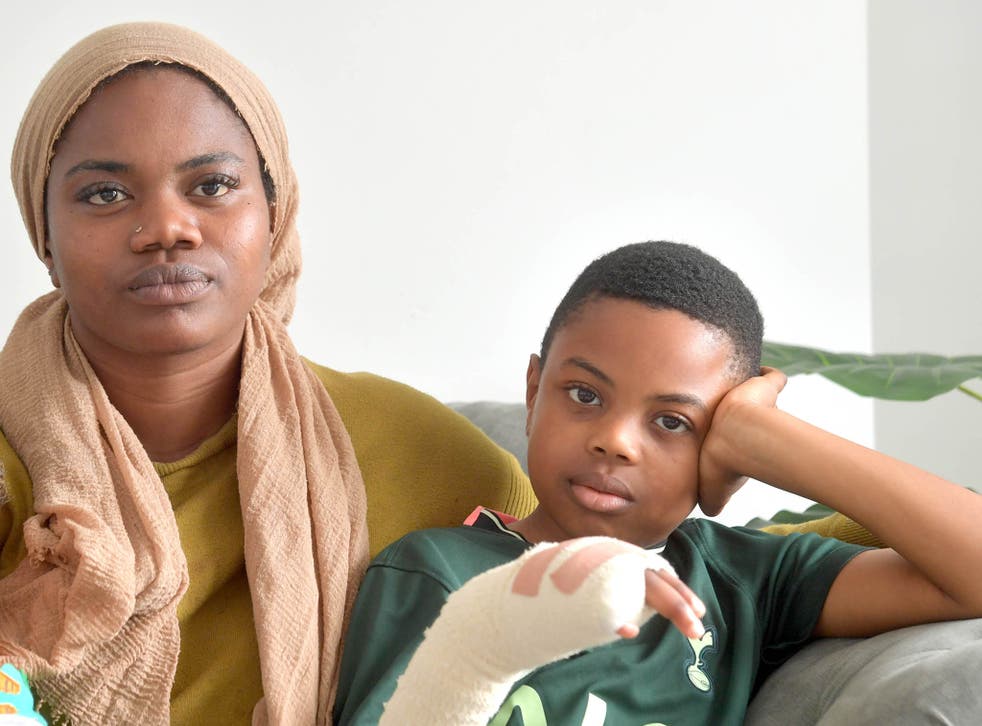 A SCHOOL trust in South Wales has shut its doors today for "healthy and safety" reasons after a black schoolboy lost his finger while reportedly fleeing racist bullies.
Raheem Bailey, 11, was allegedly subjected to torrent of "racist and physical abuse" at the Abertillery Learning Community when he joined in September 2021.
The schoolboy's mother, Shantal Bailey, said her son had been "pushed to the ground and then repeatedly kicked" as he tried to escape a group of children before climbing a fence that severed his finger in the incident.
Despite efforts to save his finger, the alleged attack forced him to undergo a life-changing amputation.
Racial justice campaigners and celebrities have all condemned the incident which has seen the secondary school now come under fire after his mother previously raised concerns with them about her son's safety.
In a statement, the Blaenau Gwent County Borough Council said: "Abertillery Learning Community is working with Gwent Police in relation to an ongoing investigation into an alleged assault on the secondary campus.
"All campuses at Abertillery Learning Community will be closed tomorrow on health and safety grounds. Learners will access blended learning for Monday, May 23.
"The safety and well-being of learners and staff remains of paramount importance to the Learning Community and the local authority at all times."
The alleged racist attack on the schoolboy comes after The Voice investigated the ongoing deaths on black people and racial abuse in Wales which was labelled as "the most racist place in the UK."
Welsh police forces recorded 3,932 hate crimes between 20017-18 – a surge of almost double since 2013.
Across England and Wales, reported hate crimes have also risen by 9% since the start of the pandemic, according to official figures.
Numbers saw a record jump of more than 124,000 reported hate crimes with nearly three-quarters being classed as racially motivated – an increase of 12%, in the year ending March 2021.
Gwent Police have confirmed they are "currently investigating a report of an assault of an 11-year-old boy" at the school premises.
Following the public outcry about the incident, Superintendent Vicki Townsend said: "Our officers are supporting and liaising closely with the family of the young boy who, when leaving the school grounds following the reported assault, received a serious injury to his hand as a result of it being caught in a fence.
"Since we received this report, on Wednesday 18 May, there has been significant interest and coverage of this.
"I would urge people to think about the impact their social media posts and commentary could have on those affected, as the police investigation continues.
"We're working closely with the school and officers continue to carry out enquiries in the area."
Education Secretary, Nadim Zahawi, also weighed in on the incident and told Sky News that there was "no place for racism anywhere in our society, let alone in education."
Celebrities have shown their support for the young schoolboy, who is still recovering from his injuries with Jadon Sancho, football manager Chris Hughton, and US basketball player Gerald Green showing solidarity in messages sent to the family.
A GoFundMe set up to help raise money for a prosthetic finger for the youngster has already garnered nearly £100,000.
A statement released by the Welsh Government said: "We condemn bullying and racial harassment in any form and expect allegations and incidents of bullying and racism to be fully investigated by schools with appropriate action taken to address the matter and prevent further instances from happening.
"We understand that this incident is being investigated by the school and the local authority, and that Gwent Police are involved and carrying out an investigation."
https://www.voice-online.co.uk/news/uk-news/2022/05/23/welsh-school-closes-down-after-black-schoolboy-loses-finger-in-racist-attack/