WATCH: Youth basketball players violently attack referee after church game; ref sustains severe injuries after being kicked kicked in the face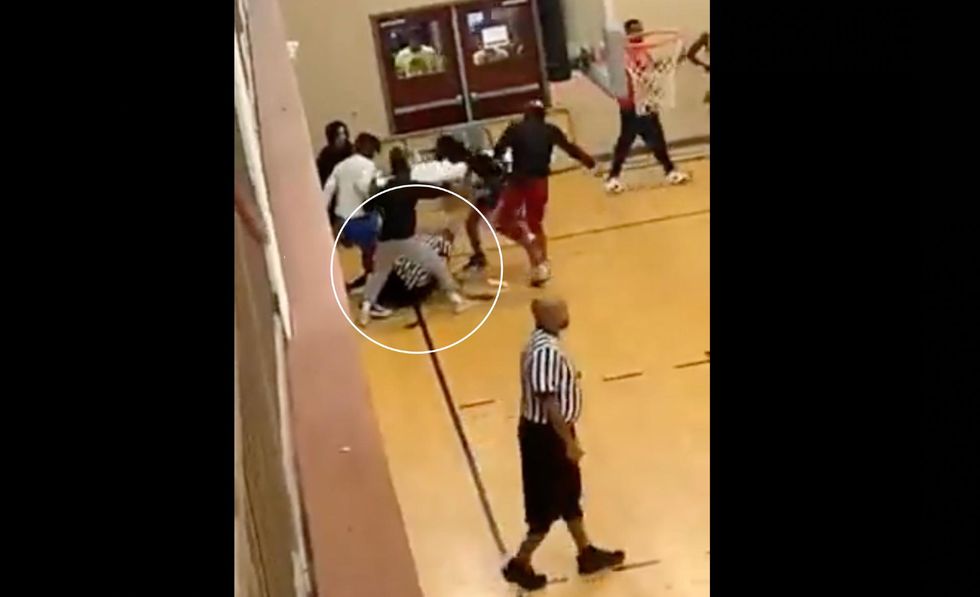 A group of youth basketball players violently attacked a referee following a game at a DeKalb County, Georgia, church on Sunday, leaving the referee with severe injuries.
According to a report from WXIA-TV, no one has been arrested in connection with the attack at the time of this reporting, and police continue to investigate the brutal beating.
What are the details?
Viral video shows the moment a mob of teens corner and attack an unnamed referee following a youth basketball game at Stronghold Christian Church in Lithonia.
In the video, the referee can be seen trying to run from the group and later attempting to defend himself before the vicious and unruly gang yanks him to the ground, where they begin repeatedly kicking and punching him. The referee attempts to shield himself from the onslaught of blows, but to no avail.
The Macon Telegraph reported that the referee was transported to a local hospital for treatment of his injuries.
TMZ Sports reported that a spokesperson for the Dekalb County Police Dept. said that authorities did respond to the scene and that the victim needed at least 30 stitches in order to stop the bleeding as a result of his injuries. The referee is expected to recover from the attack, the report added.
In a statement on the attack, Dr. Benjamin Gaither, senior pastor at the church, said, "It is truly unfortunate about the turn of events that took place during the basketball game held at our facility this weekend. We open our doors to serve our community and our goal is to provide an atmosphere conducive for enjoyment, enrichment, etc. While we can not control people, it is our hope and prayer that those who enter our facility will conduct themselves in the best manner. Our prayers go out to all those involved in this current situation."
At the time of this reporting, the video below has been viewed more than 28,000 times.
Fight at Lithonia, Georgia, Stronghold Christian Church

They were mad at the referee pic.twitter.com/uGpg1MSZTH

— Visor (@Visor_momentum) April 5, 2022
https://www.theblaze.com/news/video-youth-basketball-players-violently-attack-referee-after-church-game-ref-sustains-severe-injuries