Brown ditches equipment, quits on Buccaneers mid-game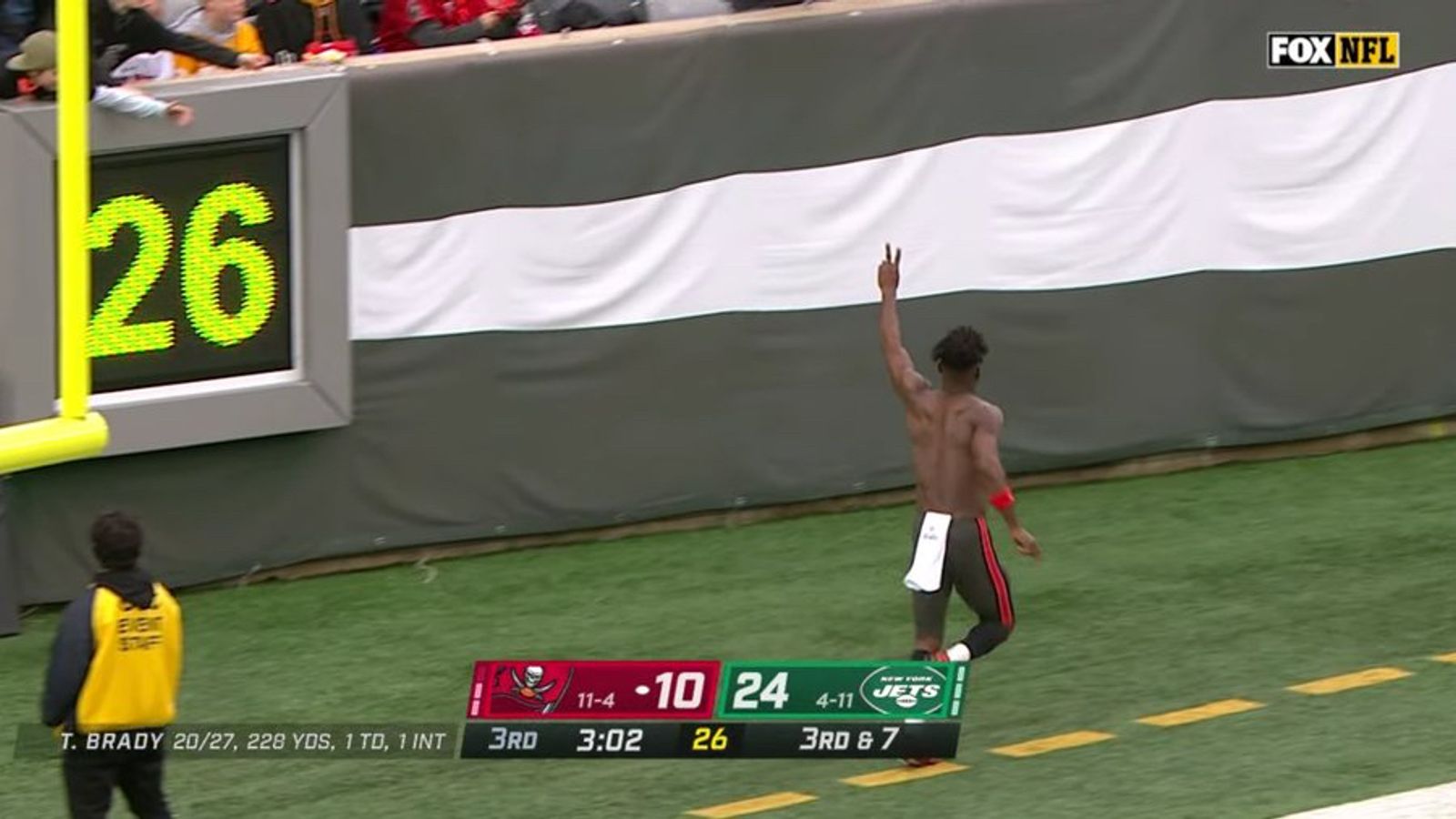 ALTOONA, Pa. — Usually ditching the shoulder pads and helmet is reserved for the locker room following the half or the game. For Antonio Brown, well the rules have never really applied to him in the first place.
With under three minutes left in the third quarter of the Tampa Bay Buccaneers game against the New York Jets, Brown decided he'd had enough.
With teammate Mike Evans trying to calm him down, Brown decided to forgo wearing his equipment and ditched his shoulder pads and jersey on the sidelines before taking the show around the field. This is what it looked like from behind the Bucs' bench.
Words will never be able to describe these antics so here's video from the Fox broadcast feed to try and do just that.
In a word, wow.
If you had Brown walking around MetLife Stadium half-naked heading to the locker room on your Business is Booming bingo card, congratulations.
Per the Fox broadcast, security in the stadium had believed Brown to be a streaking fan and had been prepared to tackle Brown until they realized he was in fact a player.
Brown had been playing okay prior to his departure having hauled in three receptions for 26 yards while Tampa Bay was losing to the Jets. Brown's status Sunday had been in doubt due to an ankle injury, though he was able to get through practice Saturday in order to be available for the game against the Jets.
Earlier this week, Brown had said he was only there to 'play football' and well, maybe that wasn't quite the case. Though, it remains unclear how or what caused Brown's meltdown, this puts an end his tenuous tenure with the Buccaneers and put a halt to his season and his career with his release following the game.
In all seriousness, whatever is plaguing Brown and causing these issues, hopefully he is willing and able to seek the appropriate help. Until then, what was once a promising career has now become a concerning one at that.
For what it's worth, the tirade might just have been what Tom Brady and the Bucs were looking for as they went on to score 18 unanswered points to beat the Jets.
https://www.dkpittsburghsports.com/2022/01/02/antonio-brown-ditches-equipment-quits-on-buccaneers-mid-game-tirade-nfl-football-jp