Don Lemon's family heirloom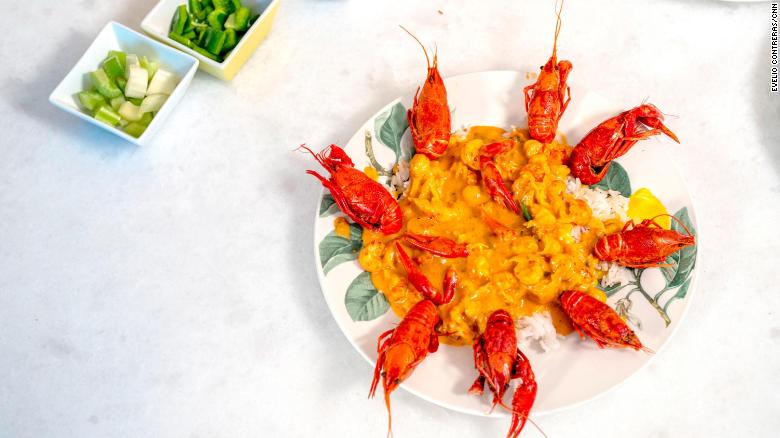 This rich and filling Louisiana crawfish étouffée recipe is CNN anchor Don Lemon's family heirloom
(CNN)If there is one thing that has not changed as this heirloom recipe makes its way through generations of CNN host Don Lemon's family, it's that it is passed along by mothers guiding their children through at the stovetop.
Well, it is family. A little teasing may be part of the tradition, too.
"She would fuss at me if I didn't do it right," Lemon's mother, Katherine, said of learning the crawfish étouffée recipe from her own mother.
"Oh, really? I wonder who else does that," joked Lemon, the anchor of CNN's weekday prime-time show Don Lemon Tonight.
The hearty dish has become a staple of their family table during the holidays — including Christmas and Easter — and has taken on a slightly different flavor depending on who is preparing it. Cream of mushroom soup thickens it, tomato soup makes it creamy, and Lemon likes to add way more crawfish than is necessary to make sure everyone gets a full plate.
"This totally tastes like home," Lemon, a Louisiana native, said. "This is a recipe that's going to put a little meat on your bones and give you some booty."
Whether you use butter or margarine, homemade roux or a premade mix, Lemon says making crawfish étouffée is more about being together and sharing a hot, savory meal than being precise.
In fact, according to Lemon, you don't have to use crawfish at all! He orders his crawfish tails from Louisiana and freezes them, but if you'd rather, you can swap them out for lobster, shrimp or even crab.
It takes some time to prepare, but crawfish étouffée is one of the simpler dishes to cook in Lemon's Louisiana tradition. Most importantly, it's filling, rich and flavorful.
Don Lemon's Crawfish Étouffée
This recipe works more by feel than by measurements.
Makes 4 servings
Ingredients
1 pound (at least) crawfish tails
Fat and juice from the crawfish
5 tablespoons margarine or unsalted butter
1 pack Cajun étouffée mix
Cream of celery soup (1-2 tablespoons per pound of crawfish)
Cream of shrimp (1-2 tablespoons per pound of crawfish)
Tomato soup (1-2 tablespoons per pound of crawfish)
Cream of mushroom soup (1-2 tablespoons per pound of crawfish)
Sprinkle of creole seasoning, preferably Tony Chachere's
1 finely chopped green onion, green tops only
Instructions
1. Open crawfish tails, making sure to drain the fat and juices into a bowl or plate.
2. In a large pot over medium heat, melt the margarine. Then add the whole pack of étouffée mix.
3. Add desired amount of cream of celery, cream of seafood, tomato soup and cream of mushroom soup to the pot.
4. Add crawfish and the fat and juices to the pot, stirring in and breaking up the tails.
5. Add in a splash of seafood stock and a sprinkle of creole seasoning to the main pot.
6. Bring to a boil, stirring often.
7. Once the mixture comes to a boil, reduce heat to low and cook for 15 minutes.
8. Remove from heat and let stand for 15 minutes.
9. Ensure the seafood is thoroughly cooked to 145 degrees, then top with green onion and serve over rice.
The recipe is a favorite in Lemon's home state of Louisiana.