Punks caught on video ganging up on 14-year-old, punching and stomping him until he's left curled up in a ball on sidewalk. No one dares intervene.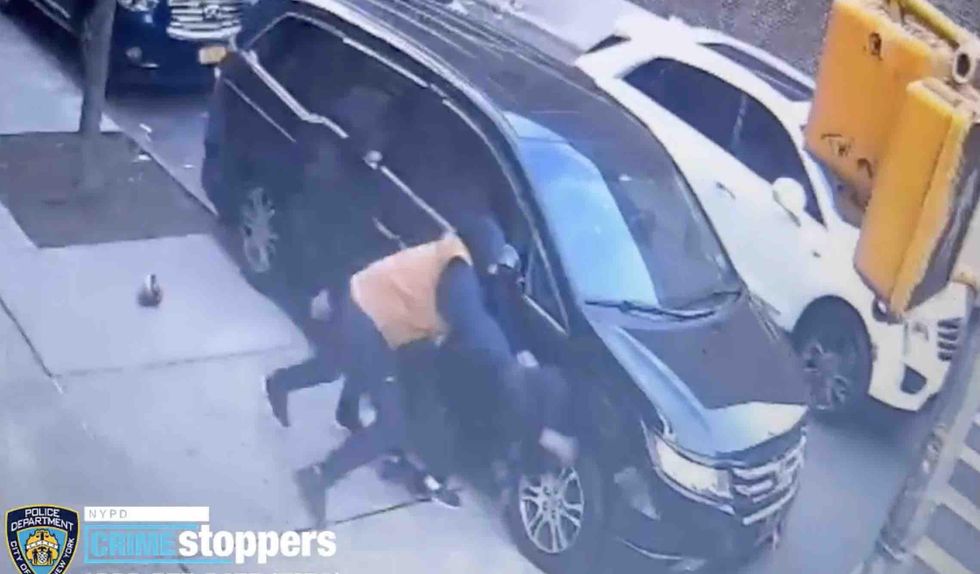 Surveillance video caught the moment a gang of crooks — at least six of them — pummeled and stomped a 14-year-old boy in broad daylight on a New York City street last week.
What are the details?
The incident — which took place around 3 p.m. on the corner of Southern Boulevard and East 174th Street in the Bronx — began when suspects approached the boy and one of them asked him where he was from, police told WPIX-TV.
Video then shows one of the suspects, dressed in a light-colored vest, suddenly punching the victim in the midsection.
With that, the first suspect continues the attack as the victim tries to get away toward the corner — but the boy is shoved into a parked vehicle and then a traffic signal pole before he's knocked to the pavement.
WANTED for ROBBERY: On 12/8/21 @ 3:00 PM, vicinity of Southern Blvd & E 174 St @NYPD42Pct a 14-year-old victim was walking when he was approached by group of individuals who assaulted him & removed his property. Any info call us @ 800-577-TIPS or DM NYPDTips Reward up to $3500. pic.twitter.com/uHOQXtplA7

— NYPD Crime Stoppers (@NYPDTips) December 11, 2021
What happened to the victim?
Emergency medical services took the boy to a nearby hospital, where he was treated for a broken nose and then released, WPIX said.
Police said one of the suspects stole the boy's cell phone before the attackers left the scene, the station added.
Police also are asking for the public's help in identifying the attackers, News 12 the Bronx reported. There is a reward of up to $3,500 for information; call 800-577-TIPS.
What did observers have to say?
As you can imagine, folks commenting on the NYPD Crime Stoppers tweet containing video of the attack were not happy about what they saw:
https://www.theblaze.com/news/punks-caught-on-video-ganging-up-on-14-year-old-punching-and-stomping-him-until-he-s-left-curled-up-in-a-ball-on-sidewalk-no-one-dares-intervene