Report: Florida's Prison System is Filled With White Supremacist Guards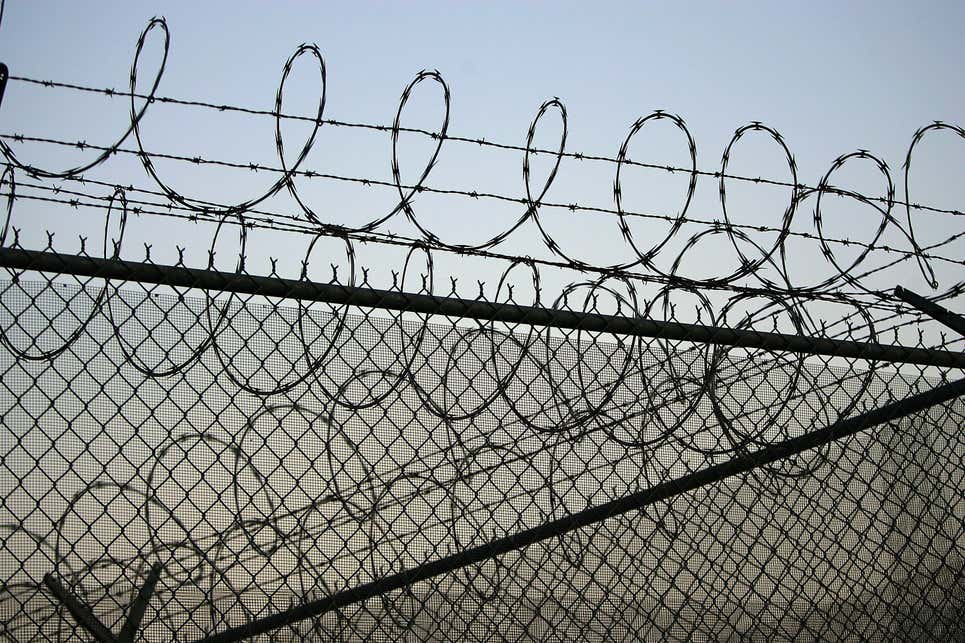 By JASON DEAREN
In June, three Florida prison guards who boasted of being white supremacists beat, pepper sprayed and used a stun gun on an inmate who screamed "I can't breathe!" at a prison near the Alabama border, according to a fellow inmate who reported it to the state.
The next day, the officers at Jackson Correctional Institution did it again to another inmate, the report filed with the Florida Department of Corrections' Office of Inspector General stated.
"If you notice these two incidents were people of color. They (the guards) let it be known they are white supremacist," the inmate Jamaal Reynolds wrote. "The Black officers and white officers don't even mingle with each other. Every day they create a hostile environment trying to provoke us so they can have a reason to put their hands on us."
Both incidents occurred in view of surveillance cameras, he said. Reynolds' neatly printed letter included the exact times and locations and named the officers and inmates. It's the type of specific information that would have made it easier for officials to determine if the reports were legitimate. But the inspector general's office did not investigate, corrections spokeswoman Molly Best said. Best did not provide further explanation, and the department hasn't responded to The Associated Press' August public records requests for the videos.
Some Florida prison guards openly tout associations with white supremacist groups to intimidate inmates and Black colleagues, a persistent practice that often goes unpunished, according to allegations in public documents and interviews with a dozen inmates and current and former employees in the nation's third-largest prison system. Corrections officials regularly receive reports about guards' membership in the Ku Klux Klan and criminal gangs, according to former prison inspectors, and current and former officers.
Still, few such cases are thoroughly investigated by state prison inspectors; many are downplayed by officers charged with policing their own or discarded as too complicated to pursue.
"I've visited more than 50 (prison) facilities and have seen that this is a pervasive problem that is not going away," said Democratic Florida state Rep. Dianne Hart. "It's partly due to our political climate. But, those who work in our prisons don't seem to fear people knowing that they're white supremacists."
The people AP talked to, who live and work inside Florida's prison system, describe it as chronically understaffed and nearly out of control. In 2017, three current and former Florida guards who were Ku Klux Klan members were convicted after the FBI caught them planning a Black former inmate's murder.
This summer, one guard allowed 20-30 members of a white supremacist inmate group to meet openly inside a Florida prison. A Black officer happened upon the meeting, they told The AP, and later confronted the colleague who allowed it. The officer said their incident report about the meeting went nowhere, and the guard who allowed it was not punished.
The officer spoke on the condition of anonymity because they were not cleared to discuss official prison business. They told The AP that, after the report went nowhere, they did not feel safe at work and are seeking to leave.
___
Officers who want to blow the whistle on colleagues are often ostracized and labeled a "snitch," according to current and former officers.
Mark Caruso, a former sergeant with Florida corrections who was twice fired and reinstated after blowing the whistle on fellow officers, described the department as a "good old boy" network.
He said that senior officers-in-charge have the power to censor any allegations of corrupt behavior that occurs on their watch. This keeps reports inside prison walls.
Caruso worked at three prisons in central Florida and reported inmate beatings and officer misconduct multiple times. Being a whistleblower did not work out well for him. He was fired after reporting on a colleague at the first prison where he worked as a sergeant, he said.
He was reinstated after the officers' union challenged the firing, and he moved to a new prison. There, he again reported an officer's use of force and was later fired and reinstated after the union challenged it again.
In 2019, he reported for duty at another new post, the Central Florida Reception Center. He was soon greeted with signs on an employee bulletin board where his name had been crossed out and "SNITCH" scrawled instead, according to testimony at a union grievance hearing. Another officer spit on his car windshield, he said.
Despite the intimidation, Caruso continued reporting inmate abuse and other illegal activity by fellow officers.
"I have reported people when physically seeing them abuse inmates," he testified in another grievance hearing earlier this year. The AP obtained video of the hearing at which multiple officers and leadership testified in detail about the system's reporting structure and culture.
Corrections officers are required to file "incident reports" if they see a co-worker acting inappropriately. In some Florida prisons, supervisors often tell them not to email the reports, according to officers who testified at Caruso's hearing. Instead, they're told to tell their supervisor verbally what happened or write it longhand. A superior officer then types it up, choosing the language and framing the event.
A sergeant testified that the reason he typed up his officers' incident reports was because most struggle with writing. Also, most do not have computer access at the prison.
Caruso said he refused to report incidents of corruption verbally because it left no record, and he worried that prison leadership would censor his reports. So he emailed them to create an electronic record, a decision that, he says, irked prison leadership.
After seeing his reports go nowhere, he finally went over his superior officers' heads. Caruso made contact with an investigator in the Office of Inspector General and emailed Florida Corrections Secretary Mark Inch directly. Inch responded to him expressing concern, Caruso said, and referred the matter to the IG's office. That did not end well, either.
https://apnews.com/article/prisons-florida-race-and-ethnicity-racial-injustice-60b96681445509d89e6c0497405497d6