Backlash at Catholic College After George Floyd Replaces Jesus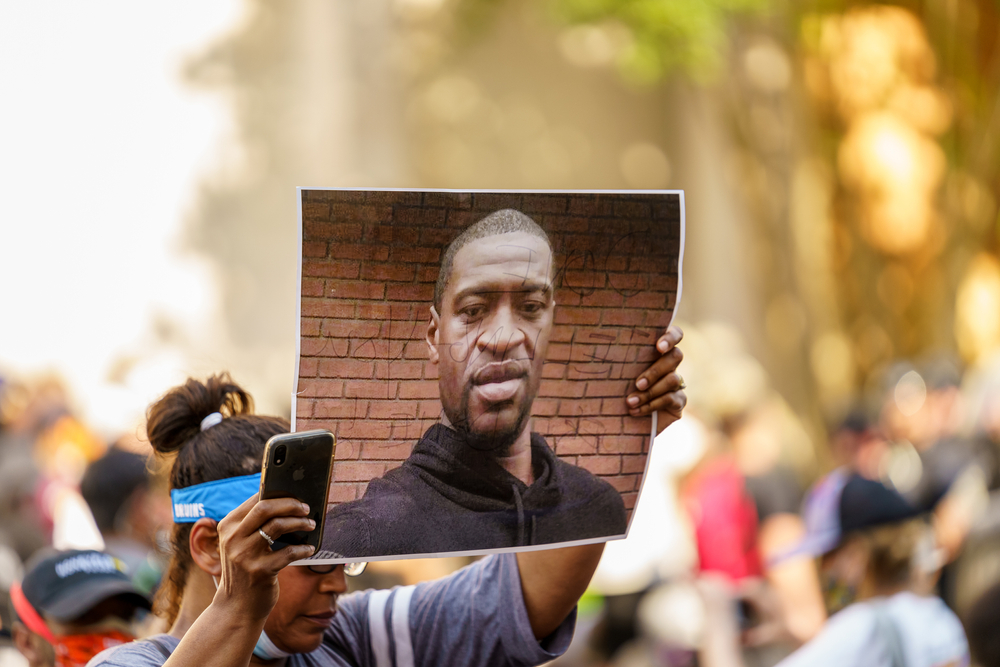 Paintings depicting Jesus Christ as George Floyd at The Catholic University of America have angered students who called it "heretical" and "blasphemous."
The school has replaced Michelangelo's iconic sculpture "La Pieta" with a work of art by Missouri-based artist Kelly Latimore titled "Mama." The new artwork puts a spin on the Renaissance piece by replacing Jesus with George Floyd.
Floyd, a Black man, was murdered last year by a police officer in Minneapolis after a store clerk suspected him of using a counterfeit bill to buy cigarettes. A viral video of his death sparked protests and riots last summer.
The painting was unveiled as part of Black History Month earlier this year. The university has displayed the painting in its campus ministry office and law school, sparking outrage among the student community.
A description below the paintings explains how the image is evocative of "The Pieta." "May Mary, the Mirror of Justice hear the cry of all who have known the sorrow of losing a loved one to violence and injustice. Amen."
'An Offense to the Catholic Faith'
Furious students have initiated a Change.Org petition demanding the university remove the "sacrilegious" image from public view. As of November 26, the petition has garnered almost 3,500 signatures.
"There's a fine line between recognizing the innate dignity and righteousness of human beings that are made in the image of God and embracing brazen, progressive politics," college junior Blayne Clegg told Fox News, "I haven't found anybody who's been able to give a serious theological justification for this kind of heretical, blasphemous idolatry."
Wrong or Right?
The controversy surrounding the painting has put Latimore in the hot seat. In an interview with The Daily Signal, the artist — who was inspired by the Black community to create the artwork — said he received several death threats from Eastern Orthodox Christians in Russia or Ukraine.
University officials said students should not interpret the male figure in the image as George Floyd. "The image represents to our community a good-faith attempt to include religious imagery on campus that reflects the universality of the Catholic Church," the school's Vice President of Communications said.
Backlash at Catholic College After George Floyd Replaces Jesus