Second Largest U.S. Defense Contractor Anti-White Racism Program EXPOSED: Whites Encouraged To Reject 'Equality' And Work To 'Defund The Police'
Christopher Rufo, an activist focused on exposing anti-white Critical Race Theory, has now exposed the anti-white racism program being implemented by Raytheon, America's second-largest defense contractor and has posted pictures of the corporation's internal documents online.
The Manhattan Institute's Christopher F. Rufo has exposed the anti-white racism program at Raytheon, our nation's second-largest defense contractor, and posted screenshots of the corporation's racist internal documents online.
SCOOP: RAYTHEON, THE NATION'S SECOND-LARGEST DEFENSE CONTRACTOR, HAS LAUNCHED A CRITICAL RACE THEORY PROGRAM THAT ENCOURAGES WHITE EMPLOYEES TO CONFRONT THEIR "PRIVILEGE," REJECT THE PRINCIPLE OF "EQUALITY," AND "DEFUND THE POLICE."

LET'S REVIEW THE INTERNAL DOCUMENTS.🧵

— CHRISTOPHER F. RUFO ⚔️ (@REALCHRISRUFO) JULY 6, 2021
According to Rufo, Raytheon CEO Greg Hayes launched a "Stronger Together campaign," which instructed employees to become an "anti-racist." Hayes signed a corporate diversity statement and asked all Raytheon employees to sign a pledge and "check [their] own biases."
As was noted by Rufo on a Twitter thread regarding the anti-white racism program at Raytheon, the "program is centered on "intersectionality," a core component of critical race theory that divides the world into competing identity groups, with race, gender, religion, sexual orientation, and other categories defining an individual's place within the hierarchy of oppression."
Raytheon then asks white employees to deconstruct their identities and "identify [their] privilege." The company argues that white, straight, Christian men are at the top of the oppression hierarchy—and must work on "recognizing [their] privilege" and "step aside" for minorities," continued Rufo. "Raytheon has segregated employees by race and identity groups for black, Hispanic, Asian, Native American, LGBTQ, and other intersectional categories."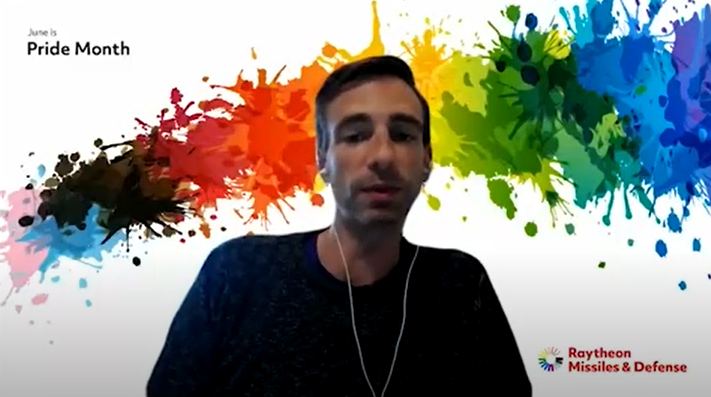 Rufo has announced that he will make an appearance on Tucker Carlson Tonight to discuss the developments.
I WILL BE ON TUCKER CARLSON TONIGHT TO DISCUSS THIS EXPLOSIVE STORY. IN THE MEANTIME, SIGN UP FOR MY NEWSLETTER TO GET THE LATEST STORIES ON CRITICAL RACE THEORY IN AMERICAN INSTITUTIONS—AND, IF YOU'RE INCLINED, TO SUPPORT MY WORK.HTTPS://T.CO/RBLN8ELCEQ

— CHRISTOPHER F. RUFO ⚔️ (@REALCHRISRUFO) JULY 6, 2021

heon, Joe Biden has claimed that he will end the "forever war" in Afghanistan. However, National File recently reported that the American presence in Afghanistan will remain in the form of clandestine Special Operations Forces, thousands of government contractors and covert intelligence operatives, along with up to 1,000 US troops.

"THE PENTAGON HAS BEEN PRETTY TIGHT LIPPED ABOUT THE PLANS AS FAR AS CONTRACTORS ARE CONCERNED," SAID BLOOMBERG GOVERNMENT REPORTER ROXANA TIRON.

DEFENSE SECRETARY LLOYD AUSTIN, A FORMER MEMBER OF THE RAYTHEON BOARD OF DIRECTORS, WHO HAS AWARDED BILLIONS OF DOLLARS IN CONTRACTS TO RAYTHEON SINCE HIS JANUARY CONFIRMATION, RECENTLY SAID THE AFGHANISTAN WITHDRAWAL PROCESS WAS "ON PACE" DURING A HOUSE ARMED SERVICES COMMITTEE HEARING.

"AUSTIN AT THE TIME HAD MADE A COMMITMENT TO RESIGN FROM RAYTHEON'S BOARD AND RECUSE HIMSELF FROM ALL MATTERS CONCERNING RAYTHEON FOR FOUR YEARS AND AGREED TO DIVEST FROM HIS FINANCIAL HOLDINGS IN THE COMPANY, AMOUNTING TO BETWEEN $500,000 AND $1.7 MILLION IN STOCK. THESE INITIATIVES, HOWEVER, HAVE NOT PREVENTED AUSTIN FROM USING HIS POSITION TO BOLSTER RAYTHEON'S FORTUNES." JUST YESTERDAY THE DEFENSE DEPARTMENT ANNOUNCED THAT RAYTHEON WOULD BE AWARDED A CONTRACT WORTH $2,000,000,000.

https://internewscast.com/news/raytheon-anti-white-racism-program-exposed-whites-encouraged-to-reject-equality-and-work-to-defund-the-police/