"Convict Trump and Lock Him Up!" Banner Flown Over Trump's Estate During Impeachment Trial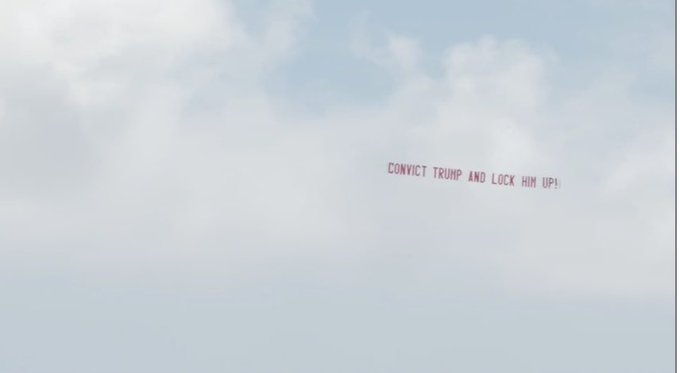 During former President Donald Trump's second impeachment trial, another banner was spotted flying over his Mar-a-Lago estate, and it definitely made a statement. According to CNN, "Convict Trump and lock him up!" was seen flying across his residence in Florida, while Trump's lawyers, like Bruce Castor, David Schoen, and Michael van der Veen, were defending the former Republican president in Washington, D.C.
"Convict Trump and Lock Him Up!"
CNN team reports a banner reading "CONVICT TRUMP AND LOCK HIM UP" being flown over Mar-a-Lago today pic.twitter.com/GvKQyeP3IH

— Ana Cabrera (@AnaCabrera) February 12, 2021
The banner comes after two other banners that had been seen flying over the estate, also insulting Trump for his time in the White House. One had read, "Trump Worst President Ever," and trailing behind it was another that said, "Trump You Pathetic Loser Go Back to Moscow." It's still unsure who was behind all of these banners, but we can guarantee that it's probably not the work of any GOP senators.
"Convict Trump and Lock Him Up!" Banner Flown Over Trump's Estate During Impeachment Trial