WATCH BREAKING: 'Mass casualty incident' unfolding on Texas highway as more than 100 cars pile up because of icy roadways, trapping people in vehicles — UPDATED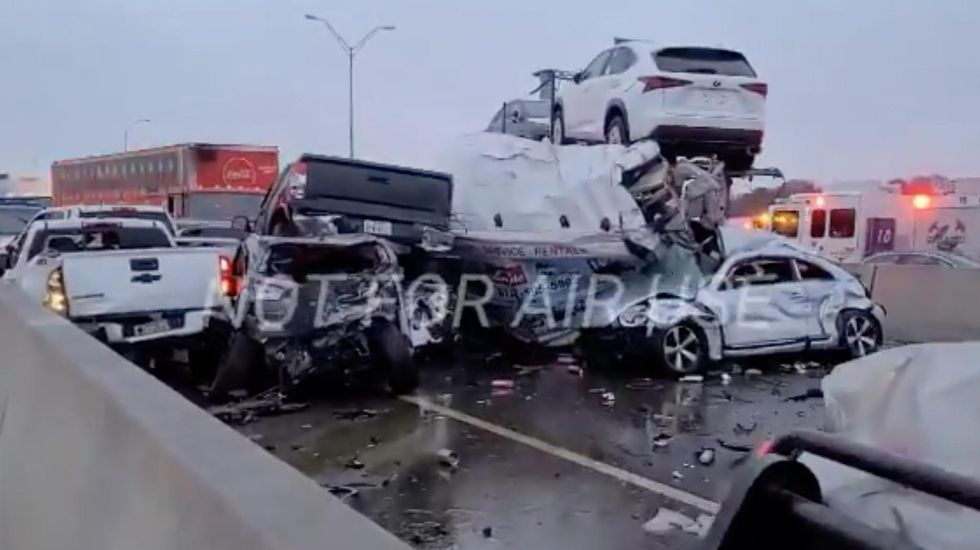 A rescue operation is under way on Thursday after more than an estimated 100 cars piled up on a Texas highway between Fort Worth and Dallas after sleet turned the roadways into sheets of ice, according to reports.
What are the details?
According to the Daily Mail, the crash site runs more than one and a half miles long, and first responders are referring to the catastrophe as a "mass casualty incident."
Early Thursday morning, the Fort Worth Fire Department tweeted, "MCI alert. 1601 N Freeway. Multiple vehicles involved. Multiple people trapped. More details to follow. PIO responding."
First responders are still attempting to access many of the vehicles, but are reportedly having difficulties due to the icy roads.
Twitter user Jason McLaughlin shared footage of the mass crash, captioning it, "Here at the scene in North Fort Worth in one of the worse [sic] disasters I have ever seen in this area. Pray. Pray hard. 100+ of vehicles."
Here at the scene in North Fort Worth of one of the worse disasters I have ever seen in this area. Pray. Pray hard. 100+ of vehicles… @CBSDFW @CBSNews @ABC @WeatherNation @weatherchannel @ReedTimmerAccu @FoxNews @cnnbrk pic.twitter.com/HFpeJoRA2Q

— Jason McLaughlin (@NorthTXWeather) February 11, 2021
KDFW-TV reported that there have been three confirmed deaths at the time of this writing.
First responders said that there were also "multiple" 18-wheelers among the wreckage.
According to KDFW, the horrific incident has closed both northbound and southbound traffic on I-35, as first responders continue to arrive on the scene.
KTVT-TV reports that at least five people are dead following the crash.
The names of the victims are yet to be released to the public.
"Information will change going throughout the day as we get more information," Fort Worth Fire Department public information officer Mike Drivdahl said during a morning press conference according to the station.
Drivdahl added, "First responders actually had difficulty getting to the vehicles. As they were making their way on the freeway to get to those vehicles it is very slippery. We did have to get quite a bit of sand out here… we did everything we could to get as much traction as possible."
KXAS-TV reports that the death toll has reached at least eight people at the time of this reporting, and notes that "dozens" have been injured as a result of the deadly crash.
At the time of this reporting, at least 36 people have been hospitalized according to the station.
A Winter Weather Advisory remains in effect through 12 p.m. local time on Thursday for the region.
Update, 2/11/2021, 12:39 p.m. ET:
Horrific new video of the large-scale accident has captured the moment semi trucks began plowing into vehicles on the road after skidding on ice.
WPVI-TV's Dan Patrick tweeted the video on Thursday morning, captioning it, "This video out of Fort Worth, TX of the crash on I-35 is horrific."
Patrick's video has been viewed more than 23,000 times at the time of this reporting
This video out of Fort Worth, TX of the crash on I-35 is horrific. pic.twitter.com/nIXqqKkS7g

— Dan Patrick (@6abcDan) February 11, 2021
https://www.theblaze.com/news/massive-deadly-pile-up-on-texas-highway