I Love You Will U Marry Me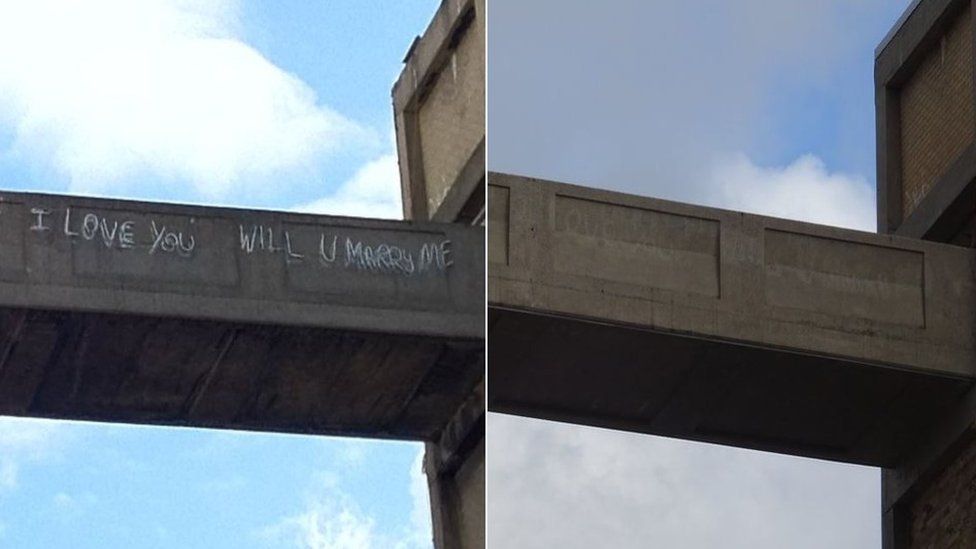 'I Love You Will U Marry Me': Sheffield graffiti removal sparks anger
Musicians have reacted angrily to the removal of a graffiti marriage proposal painted almost 20 years ago.
The 'I Love You Will U Marry Me' message had remained on Sheffield's Park Hill flats since 2001.
Singer Richard Hawley, a well-known son of the Steel City, said he was "really angry" and called for the symbol of his hometown to be reinstated.
Pulp drummer Nick Banks and singer Yungblud also said they were "dismayed" and "heartbroken".
The graffiti was painted by Jason Lowe in a bid to woo his then-girlfriend and was later immortalised in neon lights as part of a marketing campaign.
Developers Urban Splash said the message – on a bridge linking two blocks of flats – had been removed to allow for "essential repair work".
Hawley told BBC Radio 4: "Like all graffiti, it's sometimes just some kind of nuisance, but it symbolises a state of mind in Sheffield.
"When I first found out about this I was, probably like a lot of Sheffielders, really, really angry."
Hawley, who wrote songs for a 2019 musical about the Park Hill estate, added: "I just hope and would urge Urban Splash to put at least the fluorescent signs back.
"The people of Sheffield love it and that's the bottom line really."
Banks said the graffiti had become "almost a message to Sheffield itself, overlooking the city".
"Put the neon sign back, yes, but it kind of loses something without the graffiti underneath."
Meanwhile, Yungblud, real name Dominic Harrison, from Doncaster, tweeted to say he was "heartbroken".
He described the graffiti as "a quirky act of romance" in his song I Love You, Will You Marry Me.
Surriya Falconer, speaking on behalf of the developers, said there were "some structural issues" which meant the words had to be removed but there were plans to replace them.
Although Mr Lowe and his girlfriend never married, his romantic gesture has formed part of the city's skyline since, with many considering it an "iconic" piece of history.
In a BBC radio documentary, Mr Lowe explained how he braved his fear of heights to make a public show of proposing to Ms Middleton, who he had had been dating for a year.
He said: "You used to be able to see it from the Odeon cinema.
"I took her there, she thought she was going to see a film and I said: 'I've got something to show you'. I told her to look up and she read it.
"She said 'yeah'. She thought I was mad."