Kenny Rogers, country music icon, dies at 81
Kenny Rogers, a longtime star of country music, died Friday night, according to a statement posted by his family. He was 81.
Known for such hits as "The Gambler," "Lady," "Islands in the Stream," and "Lucille," Rogers died peacefully at home in Sandy Springs, Ga., of natural causes at 10:25 p.m., the statement said.
In all, Rogers had 24 No. 1 hits and was the winner of six CMA Awards and three Grammys, the family's statement said.
The Rogers family is sad to announce that Kenny Rogers passed away last night at 10:25PM at the age of 81. Rogers passed away peacefully at home from natural causes under the care of hospice and surrounded by his family. https://ymlp.com/zbjSX9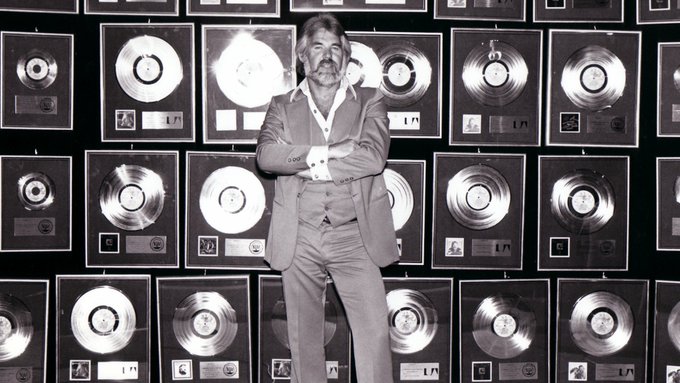 35.2KTwitter Ads info and privacy23.3K people are talking about this
Born in Houston, Texas, Rogers was raised in public housing along with seven siblings. He had his first gold single at age 20 with a song called "That Crazy Feeling" under the name Kenneth Rogers.
He then joined a jazz group, the Bobby Doyle Trio, as a standup bass player. His breakthrough came in 1966, when he was asked to join a folk group called the New Christy Minstrels. The band reformed as First Edition and scored a pop hit with the psychedelic song, "Just Dropped In (To See What Condition My Condition Was In)." After the group disbanded in 1974, Rogers pursued a solo career and his 1977 hit "Lucille" crossed over to the pop charts and earned the crooner his first Grammy.
"The Gambler," written by Don Schlitz came out in 1978, which became Rogers' signature song he later developed into a series of television movies that he starred in.
One of his biggest hits was "Lady," written by Lionel Richie, a chart topper for six weeks straight in 1980. Other hits included "You Decorated My Life," "Every Time Two Fools Collide" with Dottie West, "Don't Fall In Love with a Dreamer" with Kim Carnes, and "Coward of the County."
Over the years, Rogers collaborated with several female duet partners, most notably, Dolly Parton. The two were paired at the suggestion of the Bee Gees' Barry Gibb, who wrote "Islands in the Stream."
"Barry was producing an album on me and he gave me this song," Rogers told the Associated Press in 2017. "And I went and learned it and went into the studio and sang it for four days. And I finally looked at him and said, 'Barry, I don't even like this song anymore.' And he said, 'You know what we need? We need Dolly Parton.' I thought, 'Man, that guy is a visionary.'
"From the moment she marched into that room, that song never sounded the same," Rogers added. "It took on a whole new spirit."
Rogers and Parton toured together, leading to an HBO concert special. The two later recorded "You Can't Make Old Friends" in 2013. That same year, Rogers was a winner of the CMA's Willie Nelson Lifetime Achievement Award and was inducted into the Country Music Hall of Fame.
He received a total of 10 awards from the Academy of Country Music. According to the Recording Industry Association of America, Rogers sold more than 47 million records in the United States alone.
CLICK HERE FOR ORIGINAL STORY
https://www.foxnews.com/entertainment/kenny-rogers-country-music-icon-dead-at-81